Little Friends Music Circle in Palm Coast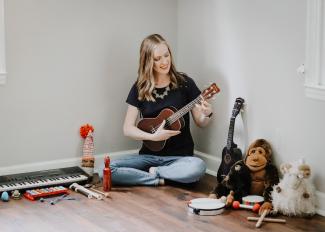 Little Friends Music Circle: "Palm Coast Music Playdates"
I am switching over from the journey to vocal growth to now strictly focusing on music for children. It was placed in my heart a couple of years ago to open my home for music playdates set up in a preschool fashion so I could pass the gift of music down to my children. At that time my son was a baby, ten months old. After only two of those monthly meetups, the entire world was shut down. I didn't get a chance to try again until a year and a half later, which changed to weekly meetups as I had a freer schedule and TWO children by that point. That lasted approximately one year and was so lovely that even though we have now moved to the sunny state of Florida, I am bringing music playdates to the new place where I believe this program will grow and flourish. I can't wait to pour my heart and soul and entire life into this program. This is a passion assignment. That is why you will see a major shift from vocal journey blogs and videos to now music blogs and updates of music playdates for children and parents to enjoy together.
I will begin to open up my sunny state music playdates as soon as possible! The intent of this program is to build a community of families through music. By the way, they are entirely free! The sole purpose is to nurture the connection between families and bonding between parents and their young children by making music together. When the music portion of our time is done, families spend the remainder of our time playing with toys and parents may have a cup of tea or coffee while chatting with the other parents.
Here's how it looks: 1. We begin with twenty minutes of music circle time (don't worry we move around a bit), 2. Playtime and coffee commence for the rest of the hour. Very simple, and very needed, especially for moms with little ones. That is why the focus age group of children is 2-5 years old, and only moms, at least for now. There could be a time in the future I expand the age range to older kids, especially as mine and yours grow! Depending on how many families show interest, I may have multiple days that I see the same ages just so we have room to fit them all, and special days to include dads. I am expecting much interest and am willing to be flexible to meet the need. My kids love music and other kids, so they probably won't complain!
My task as of now is to organize how many meetups I can provide each month considering my family is new to the area we now live and all music playdates will be held in our home. Since the playdates are free, we don't have the funds to rent space somewhere else, and it also provides a much more relaxed environment. My husband and I are welcoming the community into our home for fun and fellowship. We intend on making friendly connections and facilitating opportunities for others to connect as well. There's nothing like music that can bring a community together, especially when our children are at the heart of it.
As soon as I have my schedule plan, the slots available for each playdate will be viewable on the calendar in the menu. Select a day and time that you prefer to find out if there are still openings for that session and reserve your spot! Time will help determine the possibility for more playdates.
My question for you is this: What should I call the music playdates? Cast your vote in an email response to hannah@freeyourvoice.studio and name your favorite one. Here are the options: A. Sunny State Music Playdates, B. Palm Coast Music Playdates, C. Little Friends Music Playdates. Thank you for your help and support! Feel free to also email asking any questions if you want to know more.
For more backstory of how Little Friends Music Circle got started, click this link to read the interview I had with VoyageKC Magazine in our old city.